Connect your CMS to the memoQ Server using iLangL Localization Hub. Automate the localization flow and conquer new markets in a flash.
iLangL Localization Hub is integrated with memoQ Server via Web Service API, which allows companies to request translations from their content management systems and send content to their or LSP's memoQ Server.
When the translation is finished, iLangL grabs it from the translator and delivers it into a CMS.
Supported Content Management Systems
With iLangL Localization Hub you can connect your memoQ Server to the following CMSes:
Contentful
Contentstack
Optimizely (Episerver)
Sitecore
Umbraco
At the iLangL platform, you will be able to manage translations for all of the listed CMSes.This is especially convenient for language service providers that deliver translation services for a slew of companies.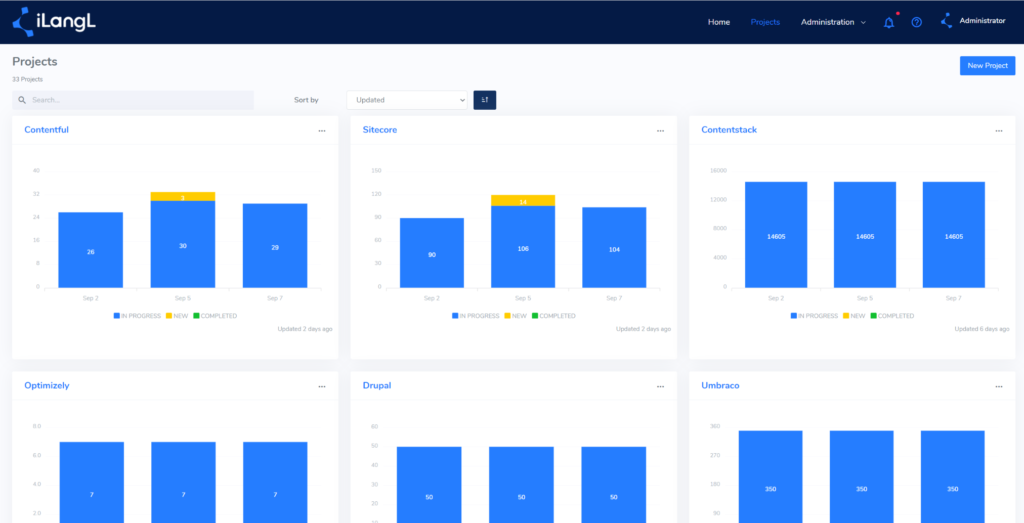 With the unified interface, you can manage all your projects disregarding what CMS your clients are operating. 
memoQ Project templates support
memoQ provides its users with the functionality to create Project templates. Using Project templates saves much time on creating translation projects. Project templates contain some predefined settings, such as languages, people, instructions, term bases etc. 
When the iLangL system extracts content from a CMS, orders and jobs are created in the iLangL Localization Hub. Afterward, the content can be sent to the memoQ translator. When iLangL creates projects in memoQ, it utilizes memoQ Project templates that are linked to specific Localization Hub Services.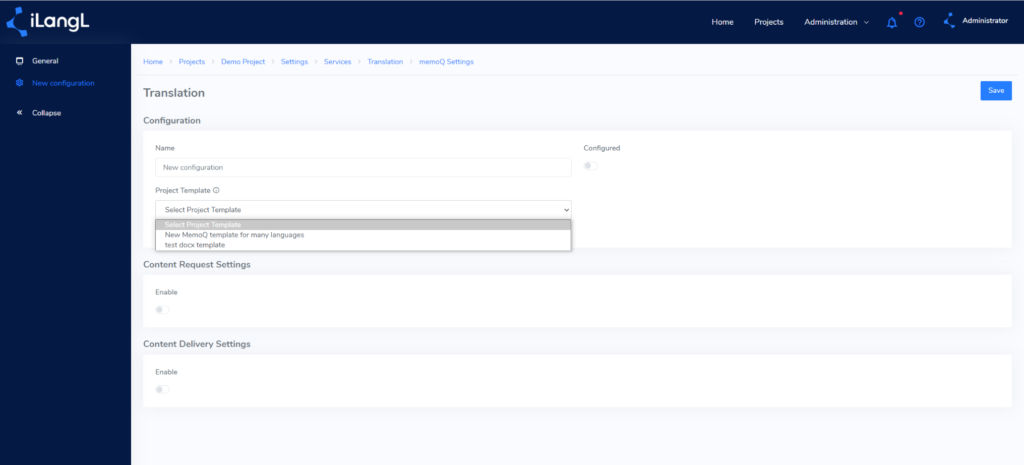 Arranging jobs before sending them for translation
iLangL Localization Hub is a middleware platform that you can use to organize the jobs in orders before transferring them to memoQ translator. When you request the content for translation, iLangL creates an Order in which each content item is represented as a Job.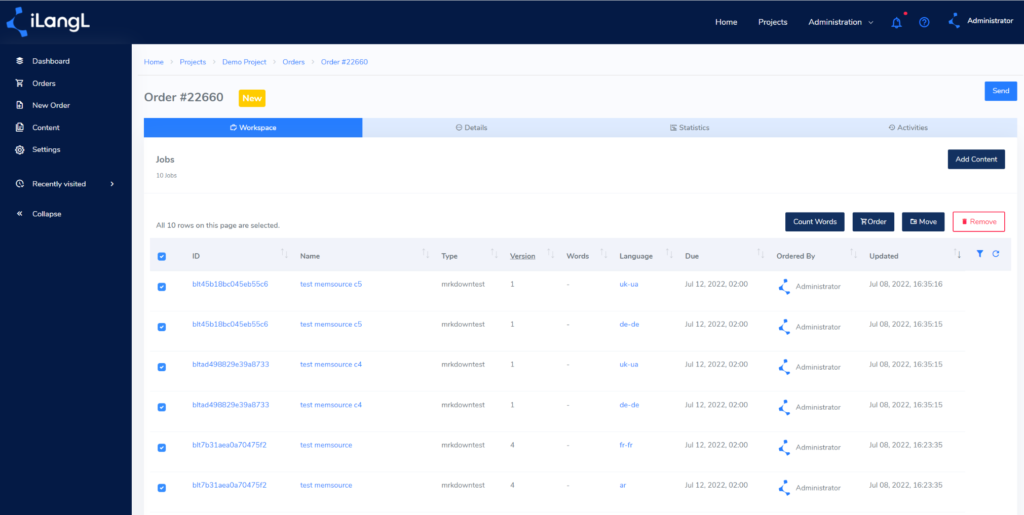 You can add, delete, and move the content to other orders before exporting it to the CAT tool. When you export the order to the CAT tool, the system creates a Project in it. It's possible to send the entire order with all the jobs for translation or only some jobs. Afterward, you'll be able to transfer other jobs to the same Project provided that it's open.
Integration with memoQ workflow
memoQ translator has three predefined workflow steps, such as Translation, Proofreading and Validation. Localization Hub platform is integrated with memoQ workflow, which implies that it can deliver the content from different workflow steps to your CMS. On our portal, you'll see at which delivery workflow step the content currently is and the state of the content item at this workflow step.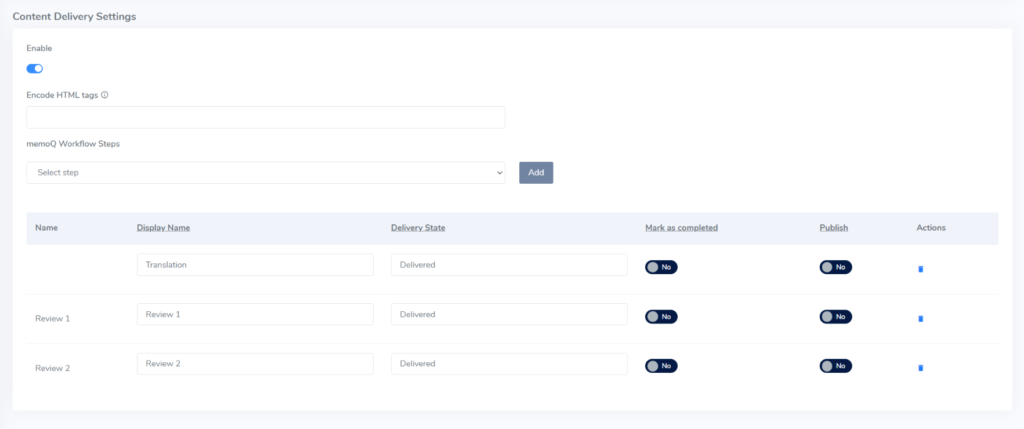 Also, you can track how many content items are at which step (Translation, Validation or Proofreading) and at which state (Not Started, In Progress or Completed).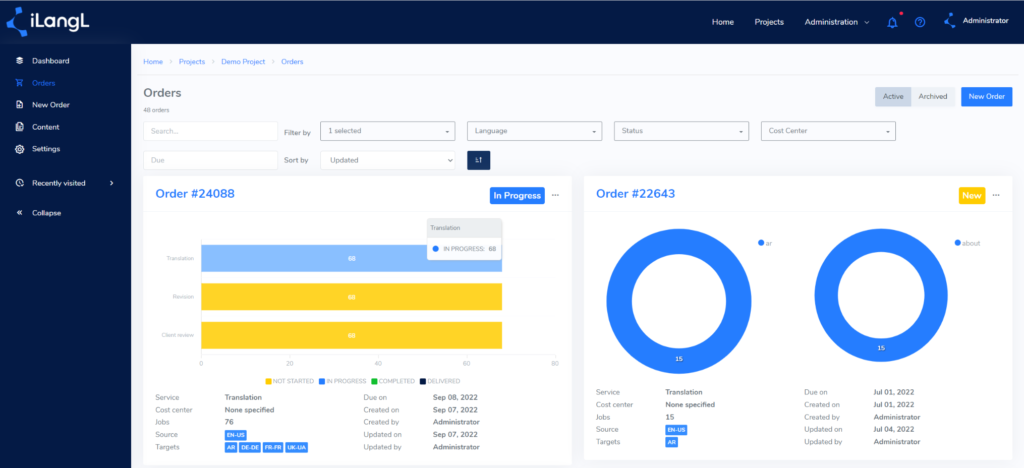 At Localization Hub, users can create configurations with different CAT tool workflows and customize them. For instance, if you require just a quick translation, you can create a service with one workflow step — Translation.
However, if you need a more high-quality translation and you expect several content round trips, you should set up a service with two or three workflow steps.
In our system, you can rename them and adjust additional settings like whether you require the content to be published in your CMS when it reaches a specific step.
Enhanced security with memoQ Server and On-premise Localization Hub
Companies that are deeply concerned about their security should consider installing the memoQ Server on the company premises. That way, the company obtains a secured environment and won't need to worry about data leaks or anything of this nature.
iLangL enhances this memoQ translation tool option by offering to install the Localization Hub portal on client premises too. So, your company can install memoQ Server and the iLangL Localization Hub on the same premises and be confident that your data is totally under your control.
Optimizing CMS content for CAT tool
With the iLangL tool, you won't have to trouble about files' format and the compatibility of files for various systems. Our platform processes the content and prepares it for translators and CMSes in the format the systems can decode.
When you export content from a content management system to the CAT tool, iLangL optimizes it and hides all unnecessary data from the translators. And when the content is translated, we return it to the CMS in the format fittable for the CMS.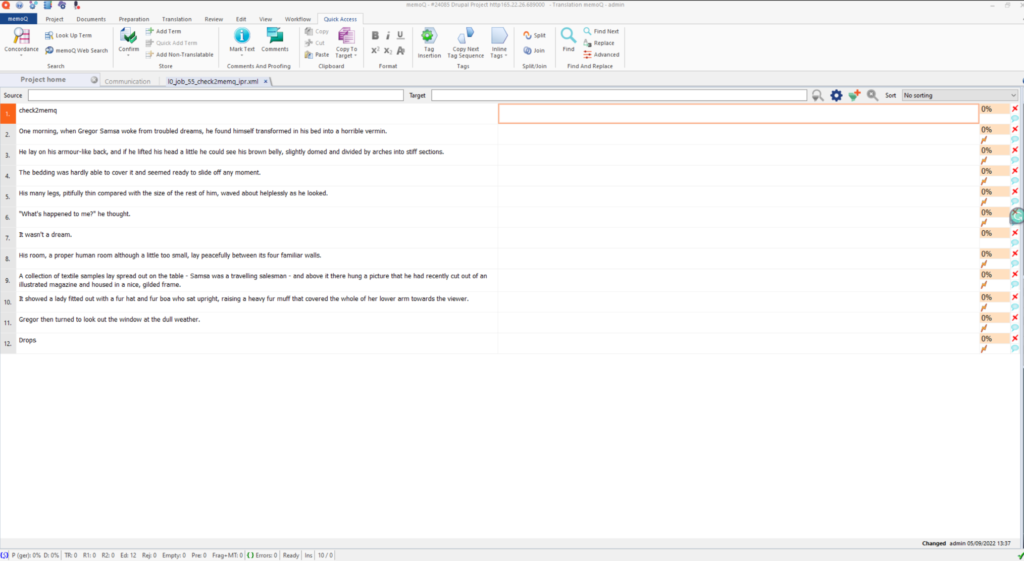 Costs
To learn more about memoQ costs for diverse installation options, please get in touch with memoQ support or sales teams.
iLangL integration with memoQ price depends on the CMS you'd like to connect to the translation tool and the number of content for localization. Visit the Pricing page to see the price range for various content management systems. Contact our support team to learn more!