iLangL Contentful connector provides the continuous localizable content exchange between Contentful CMS and translation tools. Less manual effort. More productivity.
iLangL connector for Contentful extracts localizable content from Contentful CMS and transfers it to a translation tool, such as Phrase (frm. Memsource), memoQ, or your custom system. When the translation is completed, the content goes safely back to the Contentful platform. All this can be done in a few clicks. 
Features of iLangL Contentful Content Connector
iLangL's Contentful Content Connector Extension
With the iLangL extension, you can request translations without leaving the Contentful app. Just choose the page for translation, select target languages and place the order. The content will be automatically sent to our Localization Hub platform, which will be processed and then forwarded to the translation tool — Phrase TMS (Memsource), memoQ, or another app for localization.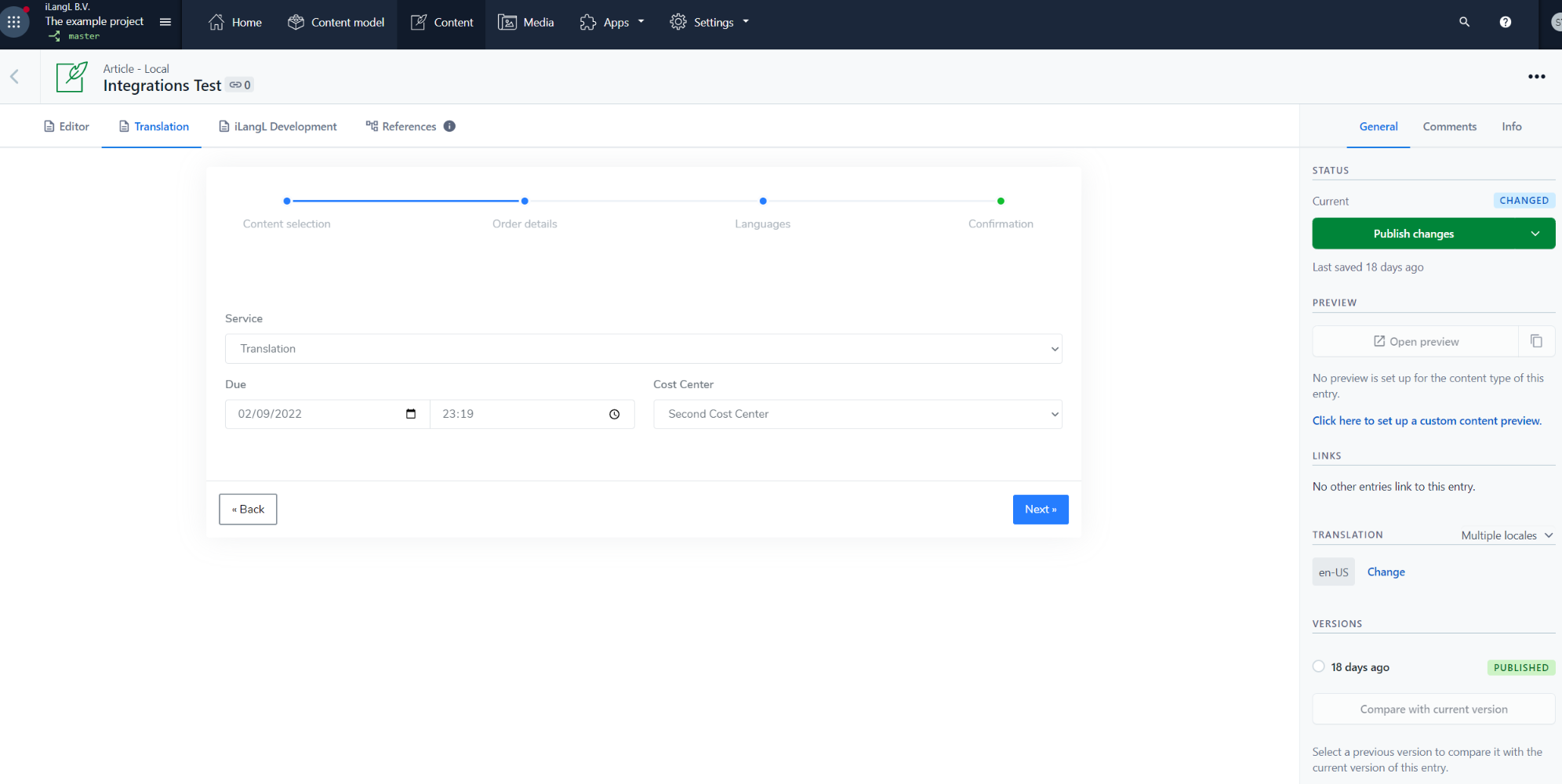 The statuses of each order are reflected in the Contentful CMS. So once the translation is complete, you'll see it in your content platform and be able to publish it.
Dealing with the complex content structure
Contentful app users know well how complicated the content structure can be in their web content management system. During the connector installation, we teach the connector how to treat your content, and how the content elements are related.
That way, when you make a translation order from the Contentful app, you can send the page together with the related items or without them — it's totally customizable. To make the tool work in accordance with your unique requirements, we set up the connector in tight collaboration with your team.
Handling field-level, entry-level and mixed localization
Contentful app offers two forms of localization: field-level and entry-level. Our technology deals with both. This means that the iLangL Contentful software can correctly export and deliver the content regardless of the localization method.
Most users usually stick to one method. However, there are cases when you use both approaches. iLangL connector app will deal with it. Our tool supports the mixed localization type.
Pulling the required content only
Due to our tool's high level of customization, some content elements can be excluded from translation. We will apply the necessary settings to tell our system which items for which languages should not be extracted for localization. As a result, each page can have its unique package of localizable elements per target language.
Contentful CMS localization can be a daunting job especially if you have a great amount of content. Due to the iLangL integration with the Contentful app, you can dramatically decrease your efforts by establishing the automated content flow. 
Get a quote for iLangL's Contentful Content Connector
Ready to simplify your Contentful content localization? Request a quote for iLangL's Contentful Content Connector today