Boost your website localization by connecting your CMS to the Phrase (formerly Memsource) translation tool with iLangL Phrase integration. Automate the content flow and significantly reduce your time to market. 
iLangL Localization Hub is a middleware platform that connects the Phrase (formerly Memsource) CAT tool with various content management systems. Due to the integration, you can place translation orders in a few simple steps. And after LSP translates the content, you can deliver it back to the CMS. Fast. Simple. Error-free.
Available CMS Connectors
iLangL Localization Hub connects Phrase (formerly Memsource) with various content management systems via API:
Any of the CMS above can be linked to the CAT tool by the Localization Hub. This will enable quick data exchange between a CMS and Phrase.
Benefits for LSPs
If you are a language service provider, and you have several clients who use the CMSes from the list above, our platform would be a fantastic helper for you. With iLangL, you can connect all your client websites to Phrase.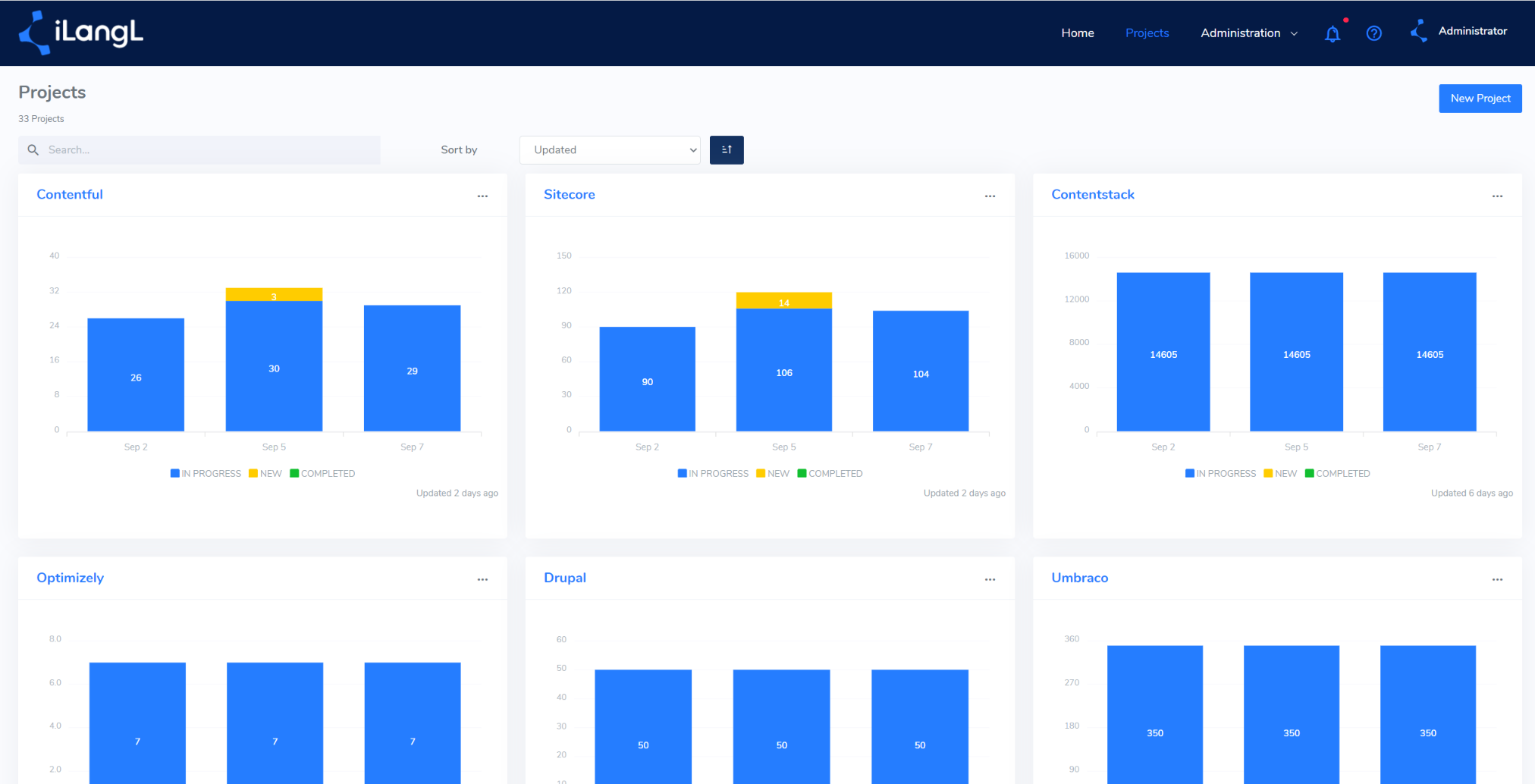 Each client website will be represented as a separate project in the iLangL Localization Hub. Each project can have diverse settings, including languages, workflows, services, and people.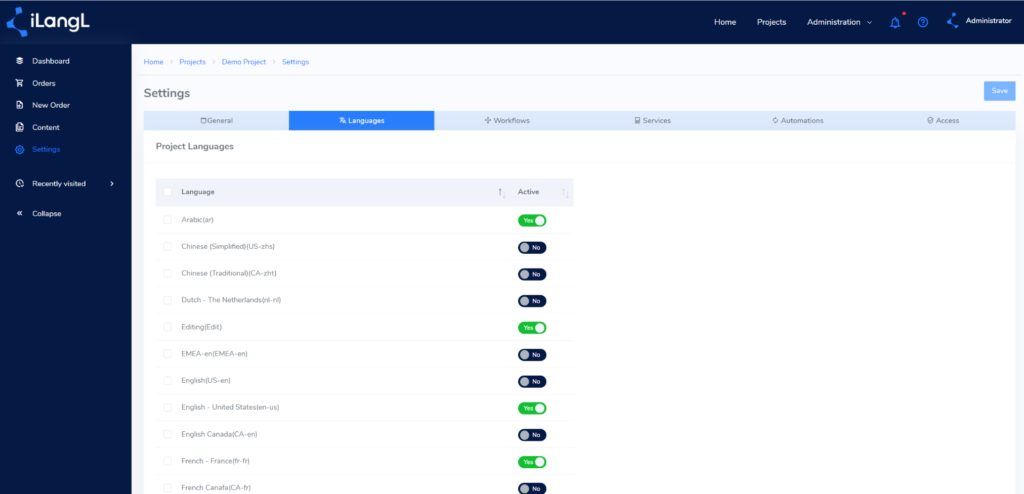 Due to the advanced access management in iLangL, each project will have its security context. Your teams can work on different projects without even knowing about each other existence. And the clients won't see each other provided that the access settings are properly set.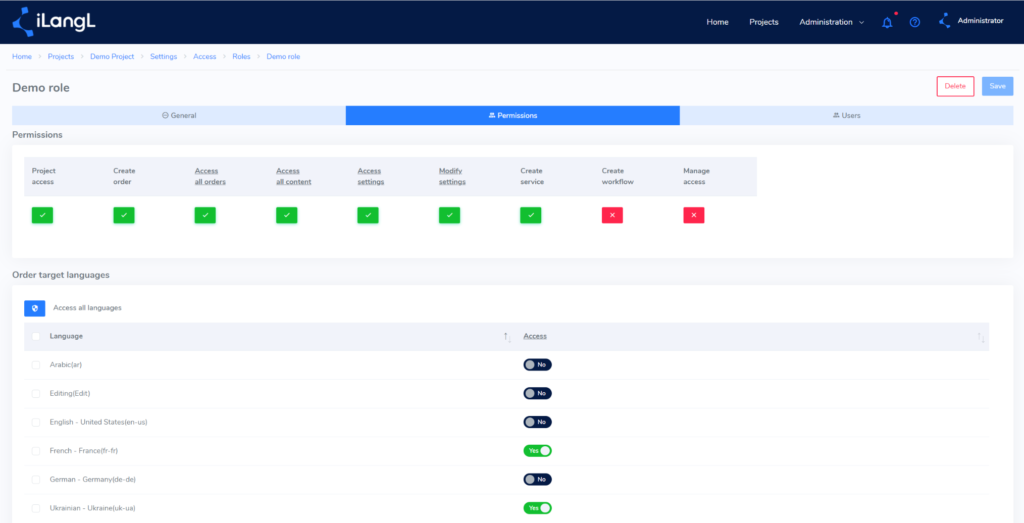 iLangL Localization Hub will significantly reduce the turnaround time. The projects and jobs are automatically created in the CAT tool when you place an order. All you need to do is to translate the content, and it will be automatically delivered to the website.
Content processing
СMS content can be structured in different ways and very often it's stored in a not optimal way for translation tools. iLangL technology processes the content in a specific way to hide system data from translators. That way, the linguists will see only the text without code pieces which can be confusing for them. As a result, the turnaround time and the quality of translation increase.

The quality of Translation Memories will also be higher due to the absence of your system data which iLangL conceals from Phrase.
If the structure of your website is complicated or you have additional requirements for content processing, we can apply specific rules to process your data correctly.
Optimizing data for a specific format
When you make a translation request in CMS, the jobs are created automatically in Localization Hub. Afterward, when the order is ready, they are sent to Phrase and LSP can translate it. You won't need to bother about which format the tool accepts. iLangL system optimizes the data from CMS so that it is correctly exported to Phrase via API. 
Editing source content in Phrase (formerly Memsource)
If you need to make edits to the source content placed in Phrase, iLangL can help you with that. We created a specific "Editing" language that allows you to make edits to the source content as if you were translating into another language. When the edits are done, you can send the edited version to your CMS.
Phrase integration templates 
Localization managers can create Project templates with the predefined settings in Phrase to automate and speed up the project creation process. They can specify Translation Memories, Term bases, Workflows, Languages, etc. Check the Phrase tutorial to learn more.
When you request content from your CMS for translation with the iLangL tool, we create projects in Phrase using your Phrase templates for that. At our middleware platform, you can link different Project templates to different Services and configurations.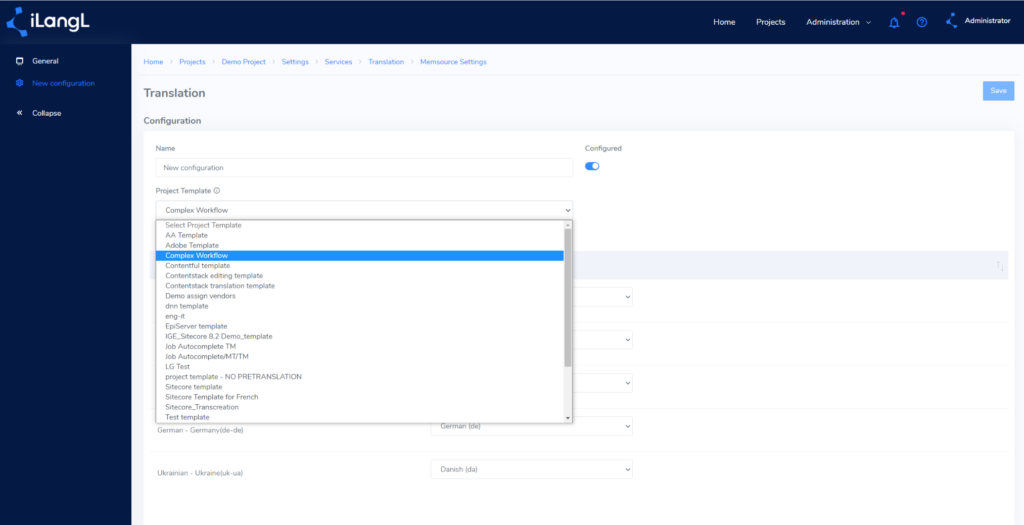 At the iLangL Localization Hub platform, you can create several Services with different languages, workflows and other settings.
Due to automations, you can set up the flow when the data is sent to the CAT tool, automatically translated with Phrase Translate machine translation and sent back to the CMS. This solution would be awesome if you need a quick release.
However, in case you need a high-quality translation, it is still better to engage human translators.
Organizing orders before export
When you place the order in your CMS with iLangL, the content is sent to the Basket in the Localization Hub from which the localization manager can organize it in specific orders. This is especially convenient when you ought to translate a great number of small items. You can combine them in one batch and put them in one Phrase project.
An order in Localization Hub equals the project in Phrase. You can organize orders in Localization Hub according to your goals. Add, delete or move content items to other orders before exporting to the translation tool.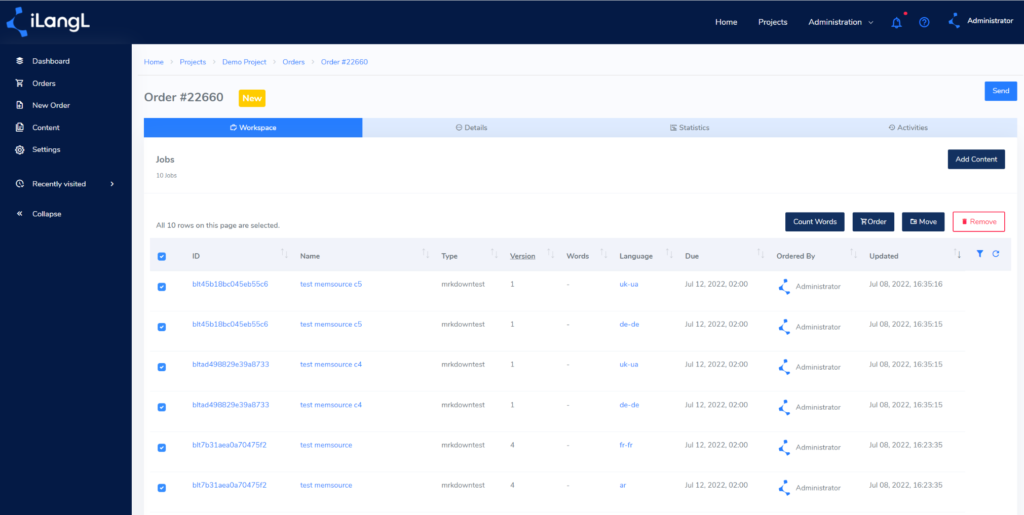 Integration with Phrase Workflows
In Phrase, you can create various workflows. iLangL platform is integrated with Phrase workflow steps via Phrase API. Our system presents in which delivery workflow step a specific element is.
In the Hub, you'll also see the statistics of how many content items are at a certain step and in which states (New, In progress, Completed).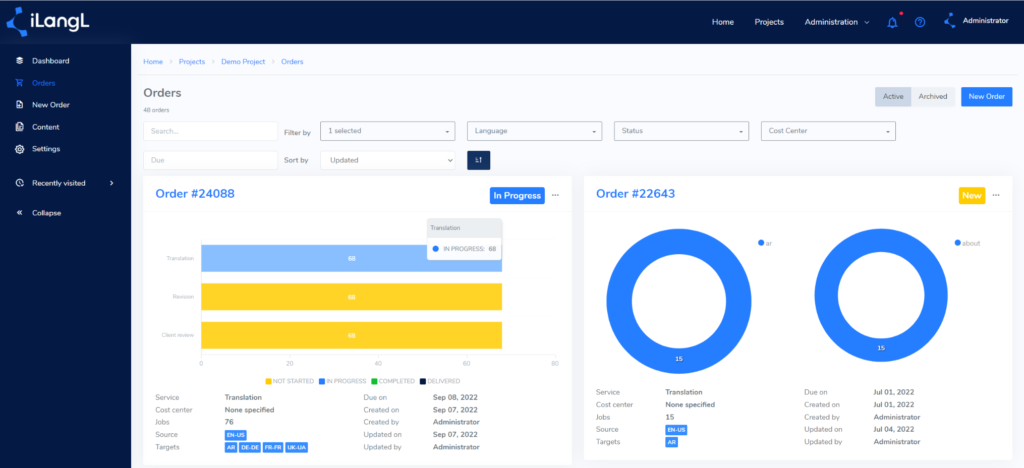 You can also deliver translation from different workflow steps to the CMS, for example, Revision or Client review. If the translated text requires amendments, the LSP can edit the text in the translation tool and redeliver it at a specific workflow step.
Facilitating translation to language varieties
Suggesting you need to translate content from one language, for example, English, to another, for example, Spanish, and afterward translate the Spanish content to its variant - Mexican Spanish.
With our system, you can easily automate this process by creating two different Services (English to Spanish and Spanish to Mexican Spanish) in the Localization Hub.
So, when ordering the Engish page for translation, you'd just need to choose the English to Spanish service. And when the job is finished, you can open a corresponding page in your CMS and make a request for the Spanish to Mexican Spanish service.
Alternatively, we can automate the flow. When the translation with the main Service (English to Spanish) is completed, the system initiates the additional service (Spanish to Mexican Spanish).
Phrase integration requirements 
The data exchange between iLangL Localization Hub and the CAT tool happens through API. To make the integration work, you would need to purchase the Phrase subscription plan that includes API. You can learn which plans include API at the Phrase pricing page.
Phrase integration costs
iLangL connects CAT tools to CMSes. CAT tools integrations are made out-of-the-box and do not require additional development efforts from our team. To connect your Phrase account to Localization Hub, you just need to have an iLangL subscription, and you'll be able to do this yourself using our tutorial.
To link your website to the Localization Hub, you would need to purchase a CMS connector. Connectors' installation takes much time from our programmers, as we adjust it to work with exclusively your website. The installation (configuration) process is chargeable and depends on the CMS and the number of texts you need to translate. Learn more about the costs at our pricing page.